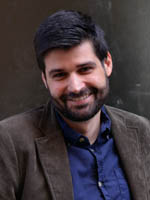 PhD in Medieval History at the Pompeu Fabra University
Lecturer at the Jaume I University of Castelló
vicentbaydal@gmail.com
Biographical sketch
Born in Valencia in 1979, I studied a year in Law and took my BA in History at the University of Valencia between 1997 and 2004. At the same time I worked for a year and a half in the creation of the Museum of History of Valencia. Later I took my doctoral courses at the Pompeu Fabra University of Barcelona and carried out a doctoral thesis on the late medieval origins of the Generalitat of Valencia at the Spanish National Research Council for Scientific. I did it under the supervision of Manuel Martínez Sánchez and Josep Maria Salrach, and I read it in June 2011. Before and after I worked as a research assistant at the Museum of History of Barcelona and the Department of Medieval History of the University of Valencia, and I developed two scholarships of the Valencian Academy of Language and the Institute for Catalan Studies. For my doctoral thesis I received two awards: the Ferran Soldevila Prize in biography and historical studies and the Raimon Noguera Prize in medieval history. Since 2013 I joined the University of Oxford to carry out a two-year postdoctoral research project on the origins of parliamentarianism in Europe thanks to a Marie Curie – Beatriu de Pinós fellowship, amb a retorun year as professor of Law at the Pompeu Fabra University. Currently I am a lecture of Law History at Jaume I University of Castelló.
Member of the Research Group FORVAL. Història i Dret Forals Valencians (UJI)
Member of the "International Commission for the History of Representative and Parliamentary Institutions"
Member of the "Society for the Study of the Crusades and the Latin East"
Member of the "Sociedad Española de Estudios Medievales"
Member of the "Anglo-Catalan Society"
Member of the "Societat Valenciana Bibliogràfica "Jerònima Galés"
Research avenues
Parliamentary History
Fiscal History
Epistolary History
History of Identities
Doctoral Thesis
Title: «Els fonaments del pactisme valencià. Sistemes fiscals, relacions de poder i identitat col·lectiva al regne de València (c. 1250 – c. 1365)».
Summary: The purpose of the thesis is to deepen the knowledge on the origins of Valencian pactism. In order to achieve that, it analyzes exhaustively the various political/fiscal negotiations that took place between the monarchy and the political community of the kingdom of Valencia from the mid-thirteenth century until the 1360's. It is, therefore, a study on the history of transformations closely imbricated in each other: on the one hand, the gradual development of the parliamentary practice until it became the main way for resolving grievances between the king and the estates of the realm and, on the other hand, the evolution of the royal and local taxation to general and local fiscal systems that were controlled by the heads of the estates. Thus, by means of analyzing these changes, the different stages and characteristics of the configuration process of pactism in the kingdom of Valencia can be more precisely determined.
Supervisors: Dr. Manuel Sánchez Martínez and Dr. Josep Maria Salrach
Grade: Summa cum laude, European Doctorate Certificate
Pdf: Yoy may read the two volumes of the doctoral thesis here
Principal publications
Books
Articles and book chapters
«La evolución del monedaje o morabatí en el Reino de Valencia entre 1266 y 1385», in R. Lanza (ed.), El uso del dinero y las economías urbanas en los reinos hispanos, siglos XIV-XVIII, Madrid, Instituto de Estudios Fiscales, in press.
«L'aportació fiscal valenciana a l'expedició de Pere el Cerimoniós a Sardenya (1353-1355)», in Jordi Morelló, Pere Ortí and Pere Verdés (eds.), Renda feudal i fiscalitat a la Catalunya baixmedieval. Estudis dedicats al Dr. Manuel Sánchez Martínez, Barcelona, Spanish Sciences Reasearch Council, in press.
[Amb Josep Enric Estrela], «Del republicanismo a la Renaixença, la entusiasta amistad entre Ignacio Pinazo y Constantí Llombart», in Francisco Javier Pérez Rojas (coord.), Valencia, Ignacio Pinazo. De la gran tradición al modernismo, Valencia, Corts Valencianes, 25 pp., in press.
[With Stefano Cingolani], «L'Arxiu de la Corona d'Aragó com a font per a l'estudi de la música medieval: El 'Corpus ioculatorum, ministeriorum, mimorum, histrionum et cantorum Catalonie'», Interseccions – Congrés d'Història de la Música al País Valencià, in press.
«Voting in the Parliaments of the Crown of Aragon, c. 1300-1716», in Serena Ferente, Lovro Kuncevic and Miles Pattenden (eds.), Cultures of Voting in the Pre-modern Europe, New York, Routledge, 2018, pp. 274-289.
«Political power in the Kingdom of Valencia during the 14th century. Breakdown or development? », Catalan Historical Review, 10 (2017), pp. 27-41.
«L'expansió territorial i marítima", in Josep Maria Salrach (coord), Orígens i configuració de la nació catalana (segles IX-XIV)», Barcelona, Enciclopèdia Catalana, 2017, pp. 208-231.
«Pactistes des de quan? Les arrels del concepte de «pactisme» en la historiografia catalana i l'obra de Jaume Vicens Vives», eHumanista/IVITRA, 9 (2016), pp. 314-340.
«Nuevas visiones sobre el desarrollo político europeo bajomedieval», Anales de la Universidad de Alicante, 19 (2015-2016), pp. 33-40.
«Los orígenes historiográficos del concepto de pactismo», Historia y política, 34 (2015), p. 269-295.
«Diplomatic Dimensions and Parliamentary Assemblies in the Late Medieval Crown of Aragon», eHumanista/IVITRA, 7 (2015), p. XII-XXIV.
«El papel de la guerra en el proceso de construcción de la fiscalidad pública en el reino de Valencia (1250-1365)», Roda da Fortuna, 2014/1-1 (2014), p 148-169.
[with F. Esquilache] «Exploitation and Differentiation. Economic and Social Stratification of the Rural Muslim Communities in the Kingdom of Valencia, 13th-16th Centuries», in F. Aparisi and Vicent Royo (eds.), Beyond Lords and Peasants. Rural Elites and Economic Differentiation in Pre-Modern Europe, Valencia, Valencia University Press, 2014, p. 37-67.
«La correspondència municipal de Barcelona, València i Palma entre els segles XV i XVI (c. 1510 – c. 1630)», Scripta. International Journal of Medieval and Modern Literature and Culture, 1 (2013), p. 105-136.
«Cambistas, fiscalidad y élites en el reino de Valencia (1270 – 1370)», in Á. Galán and E. García Fernández (eds.), En busca de Zaqueo. Los recaudadores de impuestos en las épocas medieval y moderna, Madrid, Instituto de Estudios Fiscales, 2013, p. 63-77.
«'La loi du lucre'. L'usure en procès dans la Couronne d'Aragon à la fin du Moyen Age», Sefarad. Revista de estudios hebraicos y sefardíes, 73-1 (2013), p. 255-262.
«El cabeçatge, un desconegut servei de les Corts valencianes de 1301-1302», Anales de la Universidad de Alicante. Historia Medieval, 18 (2012-2014), p. 227-270.
[with V. J. Escartí], «El record personal i familiar: la memòria (1604-1627) de Pere Escrivà i Sabata», Afers, 71-72 (2012), p. 363-380.
«A figura de Francesc de Vinatea no reino de Valência. Da crônica real aos documentos arquivísticos (1331-1332)», Mirabilia, 13 (2011), p. 214-237.
«Peites, quèsties, redempcions d'exèrcit i subsidis. La naturalesa i l'evolució dels principals tributs reials directes a la Corona d'Aragó des de Jaume I fins a Alfons el Benigne (1213-1336)», M.T. Ferrer i Mallol (ed.), Jaume I. Commemoració del VIII centenari del naixement de Jaume I, Barcelona, Institut d'Estudis Catalans, 2011, vol. 1, p. 259-286.
«Santa Tecla, San Jorge y Santa Bárbara: Los monarcas de la Corona de Aragón a la búsqueda de reliquias en Oriente (siglos XIV-XV)», Anaquel de Estudios Árabes, 21 (2010), p. 153-162.
«'Tan grans messions'. La financiación de la cruzada de Jaime II de Aragón contra Almería en 1309», Medievalismo, 19 (2009), p. 57-154.
«El naixement de l'impost del morabatí al regne de Valencia (1265-1266)», Anales de la Universidad de Alicante. Historia medieval, 15 (2008), p. 141-164.
«'Què som, i per què som com som'. Un nou model interpretatiu per a l'evolució històrica de la identitat col·lectiva valenciana», in M. Lanusse, J.A. Martínez and A. Monzón (eds.), Vida amunt i nacions amunt. Pensar el País Valencià en temps de globalització, Valencia, Valencia University Press, 2008, p. 179-213.
Reviews
«M. Hérbert, Parlementer. Assemblées représentatives et échange politique en Europe occidentale à la fin du Moyen Age», Anuario de Estudios Medievales, 47/1 (2017), p. 434-438.
«E. Belenguer, Vida i regnat de Pere el Cerimoniós (1319-1387)», Afers: fulls de recerca i pensament, 84 (2016), p. 530-532.
«M.E. Perry (ed.), Warrior neighbours: crusader Valencia in its international context: collected essays of father Robert I. Burns, SJ», Anuario de Estudios Medievales, 44/1 (2014), p. 531-532.
«A. Mas, Esclaus i catalans. Esclavitud i segregació a Mallorca durant els segles XIV i XV», Scripta. International Journal of Medieval and Modern Literature and Culture, 2 (2013), p. 350-354.
«A. Ferrando and V. J. Escartí, El llibre dels feits del rei en Jaume», Journal of Catalan Studies, 15 (2012), p. V-X.
«M. Rodrigo (ed.), Crònica i dietari del capellà d'Alfons el Magnànim», Anuario de Estudios Medievales, 42/2 (2012), p. 914-916.
«E. Guinot and F. Esquilache, Moncada i l'Orde del Temple en el segle XIII», Anuario de Estudios Medievales, 42/2 (2012), p. 904-905.
«I. Mugueta, "El dinero de los Evreux. Hacienda y fiscalidad en el reino de Navarra (1328-1349)», Anuario de Estudios Medievales, 42-1 (2012), p. 384-385.
Updated February 2017