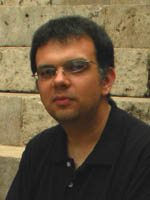 PhD in Medieval History at the University of Valencia
Postdoc researcher at the Jaume I University of Castelló
ferran.esquilache@gmail.com
Biographical sketch
Born in Valencia in 1980, I took my BA in History at the University of Valencia in 2004. Then I began my doctoral courses in the Department of Medieval History at the same university, which allowed me to get the Diploma in Advanced Studies in 2007 and finally a PhD in History in 2016. My main research interest has always been medieval societies, which I have studied through the agricultural landscape and more specifically through hydraulic spaces. In this regard the initial stages of the building of the Horta de Valencia, its creators and society have been the main focus of my doctoral thesis. But I am also interested in the process of conquest and colonization which took place in the Kingdom of Valencia in the thirteenth century, and in other topics on late medieval and early modern Rural History. I have been adjunct lecturer of Medieval History at the James I University, from Castelló de la Plana, and at the Autonomous Univertiy of Barcelona too. I am currently postdoc researcher at James I University.
Research Avenues
Hydraulic Archaeology of the large irrigated areas (hortes)
Social organization of the Andalusian landscape
Feudal Colonization
Rural History of Late Middle Ages
Doctoral Thesis
Title: «Els espais agraris i l'estructura social d'una gran horta fluvial andalusina. La construcció i evolució de l'Horta de València entre els segles VIII i XIII».
Summary: It has been a long time that hydraulic archaeology has proven to be an indispensable methodology for the study of Andalusian society. This thesis intends to apply it in a large fluvial horta of Andalusian origins in order to analyse, from physical structures such as hydraulic systems and settlements, the characteristics of that society, and to see how it evolved over the time before the Christian conquest of the thirteenth century. The research shows that it was a tribal society, as defined by Pierre Guichard over 35 years ago, and that is clearly reflected in the morphology of hydraulic systems and spaces that formed the Huerta of Valencia at that time. The dissertation has also addressed the role of the city of Valencia and the various Andalusian states in the configuration and evolution of that vast suburban hydraulic area.
Supervisor: Dr. Enric Guinot Rodríguez
Grade: Summa cum laude
Pdf: You can read the doctoral thesis here (see "Visualització")
Principal Publications
Books
Els constructors de l'Horta de València. Origen, evolució i estructura social d'una gran horta andalusina entre els segles VIII i XIII, Valencia, Publicacions de la Universitat de València, 2018.
[with Enric Guinot], Moncada i l'Orde del Temple en el segle XIII. Una comunitat rural de l'Horta de València en temps de Jaume I, Valencia, Alfons el Magnànim Institution, 2010.
Història de l'horta d'Aldaia. Construcció i evolució d'un paisatge social, Aldaia (Valencia), Council of Aldaia, 2007.
Articles, Chapters of book and Proceedings
In press – «Una herència reconstruïda. Canvis físics i institucionals en les hortes fluvials andalusines després de la conquesta cristiana», in E. Vicedo-Rius (ed.), IX Congrés sobre sistemes agraris, organització social i poder local. Recs històrics: pagesia, història i patrimoni, Lleida: Institut d'Estudis Ilerdencs, 2018, p. 449-474.
2018 – [with Josep Torró], «'Por donde jamás habían sido conducidas aguas'. La transformación agraria del marjal norte de la Albufera de Valencia (siglos XIII-XV)», in J. Torró and E. Guinot, Trigo y ovejas. El impacto de las conquistas en los paisajes andalusíes (siglos XI-XVI), València: PUV, p. 161-225.
2017 – [with Enric Guinot], «Not only peasants: the myth of continuity in the irrigation communities of Valencia, Spain, in the mdieval and early modern periods», Continuity and Change, 32-2 (2017), p. 129-156.
2016 – «Les hortes de Xirivella i Andarella en època medieval. Dos exemples de colonització feudal en el paisatge de l'Horta Sud», Annals de l'IDECO, 9 (2016), p. 67-85.
2015 – «Construcció i evolució del parcel·lari agrícola a l'Horta de València. La partida del Reialenc en el senyoriu de Torrent (segles XIII-XVI)», Estudis d'Història Agrària, 27 (2015), p. 13-41.
2014 – «La cuestión de la proporcionalidad en la distribución del agua de riego. El caso de la acequia de Favara (huerta de Valencia)», in C. Sanchis-Ibor et al. (eds.), Irrigation, Society, Landscape. Tribute to Thomas F. Glick, Valencia: Polytechnic University of Valencia, 2014, p. 50-69.
2014 – [with Enric Guinot], «La gestió tècnica de la irrigació en les hortes històriques valencianes. El sequier, dels orígens a la desaparició (segles XIII-XVII)», Millars: espai i història, 37 (2014), p. 59-99.
2014 – [with Josep Torró and Enric Guinot] «La transformation du milieu littoral dans une société mediévalé de conquête : le royaume de Valence (c. 1240-c. 1330)», in L. Mercuri, R. González Villaescusa, F. Bertoncello (eds.), Implantations humaines en milieu littoral Méditerranéen : facteurs d'installation et processus d'appropriation de l'espace (Préhistoire, Antiquité, Moyen Âge). XXXIVe Rencontres internationales d'archéologie et d'histoire d'Antibes, Antibes: Éditions APDCA, 2014, p. 411-422.
2014 – [with Vicent Baydal] «Exploitation and differentiation. Economic and social stratification in the rural muslims communities of the kingdom of Valencia, 13th-16th centuries», in F. Aparisi and V. Royo (eds.), Beyond lords and peasants. Rural elites and economic differentiation in Pre-Modern Europe, Valencia: University of Valencia, 2014, p. 37-67.
2012 – [with Enric Guinot], «La reorganización del paisaje agrario en la huerta de Valencia después de la conquista cristiana. El sistema hidráulico y el parcelario de Montcada y Benifaraig en el siglo XIII», Debates de Arqueología Medieval, 2 (2012), p. 229-276.
2012 – «Perspectivas y problemas en la aplicación de la Arqueología hidráulica a las grandes huertas fluviales. Balance de la investigación en la huerta de Valencia», in A. Castro et al. (eds), Estudiar el pasado: aspectos metodológicos de la investigación en Ciencias de la Antigüedad y de la Edad Media. Oxford: British Archaeological Reports, 2012, p. 211-221.
2012 – [with Ivan Martínez], «Les dificultats en l'aprofitament de les aigües del Xúquer. El molí, l'assut i la nora de Matada (segles XIII-XVI)», Estudis d'Història Agrària, 24 (2012), p. 55-76.
2012 – [with Ivan Martínez], «Les obres del palau reial de València a l'entorn del 1400. Un acostament a la història de la construcció valenciana en la baixa Edat Mitjana», en R. Alcoy (ed.), Contextos 1200 i 1400. Art de Catalunya i art de l'Europa meridional en dos canvis de segle, Barcelona, University of Barcelona, 2012, p. 407-416.
2011 – «L'evolució del paisatge agrari andalusí i feudal de les grans hortes fluvials. Les sèquies de Quart i del Comuner d'Aldaia a l'horta de València», Recerques. Història, economia, cultura, 62 (2011), p. 5-36.
2009 – «Sobre la rigidez de los sistemas hidráulicos y la evolución del parcelario en las huertas de moriscos. El caso de la acequia de Alèdua», Actas del XI Simposio Internacional de Mudejarismo, Teruel, Centro de Estudios Mudéjares, 2009, p. 379-392.
Reviews
Updated January 2018