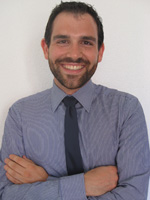 PhD in Medieval History at the University of Valencia
'Juan de la Cierva' researcher at the University of Lleida
frederic.aparisi@uv.es
Biographical sketch
Born in Gandia (1982), and Ph.D. 2016 (Valencia). In 2007 I obtained the V Segles Fellowship in the Departament d'Història Medieval of the Universitat de València, where I was supervised by prof. Ferran Garcia-Oliver. In this context, I stayed in the Centre for Local and Regional History of the University of Leicester, with prof. Chris Dyer as the supervisor (2009) and in the History and Welsh History Department of the University of Aberystwyth with Philipp Schofield (2010). Between 2011 and 2012 I was lecturer of the Universidad CEU Cardenal Herrera de Valencia. This last year I obtained a grant from The Joint Centre for History and Economics, at the University of Cambridge and the University of Harvard. Hereafter, I has combined the completion of my thesis with the work as a freelance historian in different researches. As a result of these, I have published various works, among which it can be referred Beniopa. Història d'un poble (2015) and the collective work Gandia. Projecte Urban (2016).
Research Avenues
Rural Elites
Patterns of consumption and standards of living
Lesser Nobility
Rural History
Doctoral Thesis
Title: « Del camp a la ciutat. Les elits rurals valencianes a la baixa edat mitjana ».
Summary: The thesis aims to study the Valencian rural elites and their role in rural-urban relations during the late Middle Ages. The chronology of this work ranges from the late fourteenth century to the early sixteenth. It is divided into three sections. The first one is dedicated to the analysis of economic strategies of these families. It emphasizes the wide range of businesses of various types that configured the economic activities of rural elites. In the second part, the composition of wealthy families based on several factors such as marital strategies, family size, integration of close relatives and domestic staff is analysed. The outward signs of difference, from the reproduction in local management posts to the adoption of forms and behaviours from the urban world, are addressed in the third part. Also, in this block, the ways of social promotion employed by these leading villagers are considered. The social ascension used to imply an intense mobility often involved their migration to the capital of the kingdom, Valencia. Before presenting the conclusions, the last part analyses one of the most suggestive families, illustrating the evolution of what was the Valencian rural elites throughout the fourteenth and fifteenth centuries, the Matamalas.
Supervisor: Dr. Ferran Garcia-Oliver
Grade: Summa cum laude. International Doctorate Mention
Principals Publications
Books
Articles, Chapters of book and Procedings
«Village entrepreneurs. The economic foundations of Valencian rural elites in the fifteenth century», Agricultural History, vol. 89 n. 3 (2015), p. 336-357.
«Beyond defence. Art in the towers and gates of the city of Valencia (14th-15th centuries)», in R. Romero (ed.), Signum Lapidarium. Estudios sobre Gliptografía en Europa y Oriente Próximo, Valencia, 2015, p. 161-174.
«La comunidad rural», Torrent. Història de un poble, Valencia, 2015, p. 121-128.
«The Notarial Profession as a means of social promotion amongst rural elites of the Midlands of the kingdom of Valencia during the 14th and 15th century», in F. Aparisi and V. Royo (eds.), Beyond Lords and Peasants. Rural Elites and Economic Differentiation in Pre-Modern Europe, Valencia, 2014, p. 139-162.
[with V. Royo] «Fractures in the community: a historiographical review», F. Aparisi and V. Royo (ed.), Beyond Lords and Peasants. Rural Elites and Economic Differentiation in Pre-Modern Europe, Valencia, 2014, p. 21-36.
[with D. Muñoz] «Conflictividad social en torno a los azudes del Júcar a finales del siglo XVI. Un problema recurrente por la gestión del agua», in C. Sanchis, G. Palau, I. Mangue and L. P. Martínez-Sanmartín, (eds.) Irrigation, Society, Landscape. Tribute to Thomas F. Glick, València, 2014, p. 203-210.
«Las elites rurales en la edad media como objeto de estudio. De la marginalidad al centro del debate historiográfico», Historia, Instituciones, Documentos, 40 (2013), p. 11-34.
[with V. Royo] «Lesser nobility and war in the Kingdom of Valencia during the later middle ages. Attitudes and behaviours beyond military service», in L. Bleach and K. Borill (eds.), Battle and Bloodshed: Representations of War in the Middle Ages, Newcastle upon Tyne, 2013, p. 121-136.
«Fundar una vila, colonitzar un territori. La vila de Gandia en temps de Jaume I», El món de la cultura a l'època de Jaume I. L'expansió territorial a Valencia, Barcelona, 2013, p. 569-605.
«La producción y el consumo de vino entre el campesinado valenciano durante la baja edad media», in S. Pérez and J. Blánquez (ed), Vine and wine cultural heritage, Madrid, 2013, p. 161-170.
«La pesca a l'Edat Mitjana: fonts i metodologia d'estudi», Nuevos estudios multidisciplinares sobre historia y cultura medieval: Fuentes, metodología y problemas, Murcia, 2012, p. 13-24.
«Una comunidad rural a las puertas de la ciudad», Quart. Història de un poble, Valencia, 2011, p. 197-202.
[with V. Royo] «Pequeña nobleza y guerra en el reino de Valencia durante la Baja Edad Media. Actitudes y comportamientos en el servicio militar», Medievalismo, 20 (2010), p. 149-171.
«Algunes consideracions sobre la vila d'Oliva en temps medievals», Saitabi, 58, (2009), p. 81-92.
«Pequeños campesinos mercaderes. Los trabajos complementarios de la explotación campesina», Actas XI Simposio Internacional de Mudejarismo, Teruel, 2009, p. 681-692
«Elites rurales y el consumo de objetos de arte y productos de lujo en el País Valenciano durante la baja Edad Media», Imagen y cultura. La interpretación de las imágenes como historia cultural, Valencia, 2008, p. 269-281.
«La pesca marítima en temps d'Alfons el Vell en el ducat de Gandia i el comtat de Dénia», Comercio, redistribución y fondeaderos: la navegación a vela en el mediterráneo, Valencia, 2008, p. 373-381.
«La gestión indirecta de la tierra en la huerta de Gandia durante el siglo XV», La ciudad y su influencia territorial, Nájera. Encuentros internacionales del Medievo, Logroño, 2007, p. 279-290.
Updated February 2017